Punica granatum nana
-12°C
exotic tropical fruit trees, patio plants, hardy exotics, hardy tropicals, hardy exotic nursery
Punica granatum nana
dwarf Pomegranate
-12 ° C
Delivery Height: 15 cm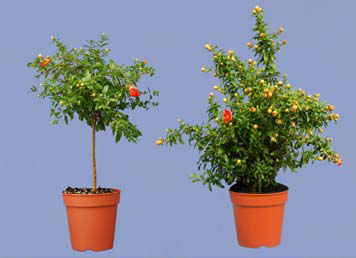 Punica granatum 'Nana' or Dwarf Pomegranate is a dense shrub that will reach 1,20m.
Punica granatum nana pré bonsai
Punica granatum 'Nana' need full sun and a well-drained soil mix.
Pruning pomegranate trees will keep them shapely -- and compact.
You'll also encourage more flower buds to form.
Prune in spring, removing old wood and long side branches.
Light: Bright light to full sun.
Water: Keep soil evenly moist.
Punica granatum nana Bonsai
exotic tropical fruit trees, patio plants, hardy exotics, hardy tropicals, hardy exotic nursery
euro 4.50



Stock: 9