Abutilon megapotamicum big bell
-10°C
exotic orangerie plants, terrace plants, patio plants, roof plants,
balcony plants, container plants
Abutilon megapotamicum big bell
-10° C patio plant
Delivery Height: 30-35 cm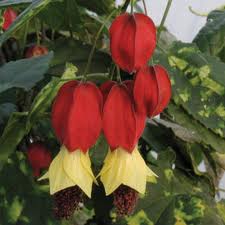 Trailing Abutilon
Abutilon megapotamicum is a slender branched, somewhat vining deciduous shrub with curious showy hanging lantern-shaped flowers with two tone red and yellow parts.
Flowering occurs from late summer into fall. Sometimes used for hanging baskets.
This shrub may be used in a perennial border spreading several feet in a single season or it can be trained up a support.
Abutilon megapotamicum big bell Pré Bonsai
exotic orangerie plants, terrace plants, patio plants, roof plants,
balcony plants, container plants
euro 4.50



Stock: 0