Acnistus Australis
-6°C
exotic orangerie plants, terrace plants, patio plants, roof plants,
balcony plants, container plants
Acnistus Australis
-6 ° C
Delivery Height: 15 cm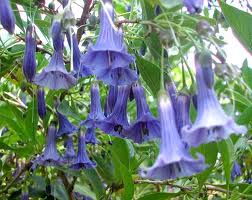 Mini Angel's Trumpet
From Argentina and Bolivia.
Rare and beautiful plant which, although in its natural habitat is an evergreen shrub.
Native to Argentina, it is evergreen & likes sun to part sun & average water.
It can be pruned hard in early spring if it gets leggy.
It grows as a large multi-stemmed shrub or small tree to 10'.
Good in a container.
Hummingbirds love the flowers!
It flowers the first year and can thus be treated as a half hardy annual. Fast growin.
Beloved of humming birds.
In full bloom, it is truly spectacular!
exotic orangerie plants, terrace plants, patio plants, roof plants,
balcony plants, container plants
euro 4.50



Stock: 0