Ailanthus altissima
-20°C
hardy exotic trees, exotic trees, tropical trees
Ailanthus altissima
-20 ° C
Delivery Height: 15-20 cm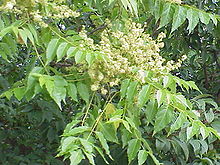 A fast growing tree.
Ideal for new gardens.
Native to China, Australia, the Moluccas and North Korea.
The flowers are small, greenish and form erect racemes.
The sky tree is dioecious, male and female specimens.
The female trees bear after flowering in June / August orange plumes occurring in late summer to reddish brown, winged fruit.
He claims no special soil requirements
Prune if needed in late June.

Aillanthus altissima Bonsai
hardy exotic trees, exotic trees, tropical trees
euro 4.50



Stock: 3