Dasylirion wheeleri
-15°C
tree ferns, evergreen ferns, hardy tree ferns, hardy yucca
Dasylirion wheeleri
Desert Spoon
-15°C
Delivery heigt 15 cm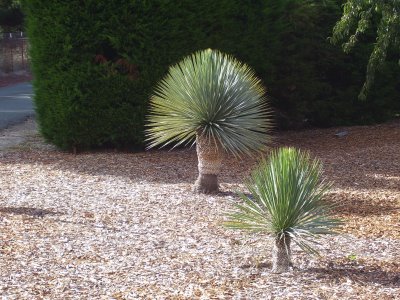 Dasylirion wheeleri (Desert Spoon or Common Sotol) is a flowering plant native to arid environments of northern Mexico, in Chihuahua and Sonora and in the southwestern United States, in the Sonoran Desert in Arizona, and also in New Mexico and Texas.
Dasylirion wheeleri is a moderate to slow-growing evergreen shrub with a single unbranched trunk up to 40 cm thick growing to 1.5 m tall, though often recumbent on the ground.
The flowering stem grows above the foliage, to a height of 5 m tall, and 3-6 cm diameter.
The fruit is an oval dry capsule 5-8 mm long, containing a single seed.
tree ferns, evergreen ferns, hardy tree ferns, hardy yucca
euro 3.50



Stock: 7