Feijoa sellowiana
-10°C
exotic tropical fruit trees, patio plants, hardy exotics, hardy tropicals, hardy exotic nursery
Feijoa sellowiana
pineapple guava
-12°C
Delivery Height: 25 cm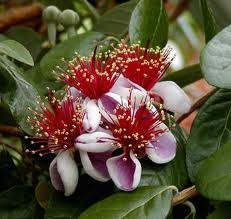 The feijoa is native to subtropical Paraguay, Uruguay, northern Argentina and southern Brazil.
Feijoa is adaptable to most types of soil and doesn't require much fertilizer.
Light: Full sun to part shade.
Thrives with little care in most well-drained soils. Usually doesn't need supplemental watering except in very dry climates.

Feijoa is hardy to 10º F (-12º C)
To produce fruit, feijoas need 100-200 chilling hours below 45º F (7º C).
Heat stress in the summer may cause them to drop fruit prematurely.
Feijoa sellowiana Bonsai
exotic tropical fruit trees, patio plants, hardy exotics, hardy tropicals, hardy exotic nursery



euro 4.50



Stock: 1