Kangaroo Apple Solanum aviculare
-8°C
exotic tropical fruit trees, patio plants, hardy exotics, hardy tropicals, hardy exotic nursery
Kangaroo Apple -8°C
Solanum aviculare
25 cm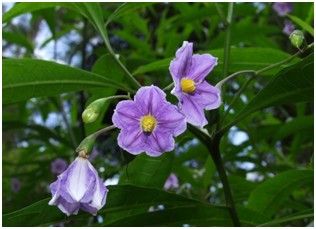 Fruit - raw or cooked.
It must be thoroughly ripe because the unripe fruit is poisonous.
Evergreen Shrub growing to 1.8 m.
It is in flower from Jul to October.
The flowers are hermaphrodite (have both male and female organs).
Prefers well-drained soil.
The plants will be somewhat hardier in their second winter.
exotic tropical fruit trees, patio plants, hardy exotics, hardy tropicals, hardy exotic nursery
euro 3.50



Stock: 8