Stevia rebaudiana
sugar plant
exotic spices - medicinal plants - exotic spices - medicinal plants
Stevia reboudiana
sugar plant
not hardy
Delivery Height 20 cm
Stevia plant, low in calories and sweeter than sugar.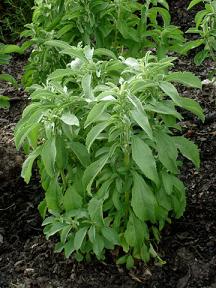 With its steviol glycoside extracts having up to 300 times the sweetness of sugar.
Stevia has garnered attention with the rise in demand for low-carbohydrate, low-sugar food alternatives.
Because stevia has a negligible effect on blood glucose, it is attractive as a natural sweetener to people on carbohydrate-controlled diets.
Stevia plants do best in a rich, loamy soil.
Native to subtropical and tropical regions from western North America to South America.
The species Stevia rebaudiana, commonly known as sweetleaf, sweet leaf, sugarleaf, or simply stevia, is widely grown for its sweet leaves.
As a sweetener and sugar substitute, stevia's taste has a slower onset and longer duration than that of sugar,
exotic spices - medicinal plants - exotic spices - medicinal plants
euro 3.50



Stock: 0