Tecomaria capensis - Cape honeysuckle
-6°C
exotic orangerie plants, terrace plants, patio plants, roof plants,
balcony plants, container plants
Tecomaria capensis
Cape honeysuckle -6°C
Delivery Height: 10-15 cm
Fast growing sprawling plant that, if left unpinned, puts out long stems and becomes almost a vine that needs some kind of support.
Needs very well-drained soil, prefers full sun, but will bloom in filtered light as well; flowering is best is slightly cooler climates.
Can sustain minor damage if unprotected.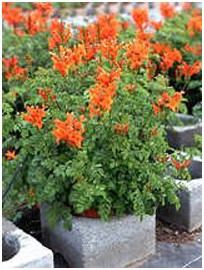 exotic orangerie plants, terrace plants, patio plants, roof plants,
balcony plants, container plants
euro 4.50



Stock: 0