Xanthoceras sorbifolium
-25°C
exotic tropical fruit trees, patio plants, hardy exotics, hardy tropicals, hardy exotic nursery
Xanthoceras sorbifolium -25 ° C
Chinese chesnut
Delivery Height 15 cm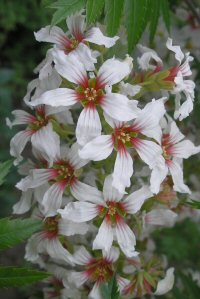 Chinese Flowering Chestnut.
Xanthoceras sorbifolium is a deciduous Shrub growing at a slow rate.

It is in flower from May to June, and the seeds ripen from Sep to October.
The flowers are hermaphrodite (have both male and female organs).
The plant prefers light (sandy), medium (loamy) and heavy (clay) soils and requires well-drained soil.
The plant prefers acid, neutral and basic (alkaline) soils..
It cannot grow in the shade.
It requires dry or moist soil.
Full sun; rich humusy well draining soil.
In fall, lime sized fruits bear up to 12 marble sized edible nuts within its four chambers.
Blooms at an early age. The seed is about the size of a pea, it is quite sweet, with a taste like a sweet chestnut.
exotic tropical fruit trees, patio plants, hardy exotics, hardy tropicals, hardy exotic nursery
euro 4.50



Stock: 0