andrewsgarden, exotic plants, tropical plants, mediterranean plants
Exotic plants, Andrewsgarden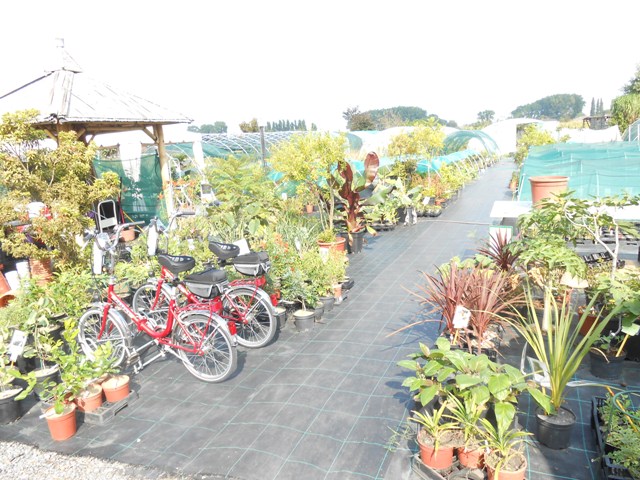 The plant nursery will be open to the public again in 2022
from the end of May, only in the afternoon from 2 pm
No fixed opening hours, just telephone the day itself
to find out
if someone is present at the plant nursery.
0032/486869838
- - - - - - - - Online ordering is no problem - - - - - - - -
Collecting plants is still possible.
The plants are placed in front of the gate for collection.
The plants are sheltered from the rain
20% discount, if you pick up the plants yourself at the plant nursery.
----------------------------
Bancontact
Bancontact available at the nursery
-----------------------------------
.
Plants can also be collected at all trade fairs
De nursery is a 5-minute drive from the Aalter exit (E40)
direction Tielt-Ruiselede.
------
Address for the GPS
Kantestraat 3B (follow the arrow)
8700 Kanegem (Belgium)
Tel: 0486/869838
___________________________________________________________
Payment Information
Paying with PayPal is recommended, in use worldwide, secure, with millions of users. You do not have bank account details for payment. Only in the possession of an email address.
Simply fill in the recipient's email address and payment is made.
Go to the PayPal site for information, and ask your bank.
Course, also can be paid by bank transfer.
Bank details for transfers
A. De Vos
Keizerstraat 1/001
8700 Tielt Belgium
IBAN: BE63 3630 8497 8508
BIC code: BBRUBEBB
VAT no BE0789124395
_______________________________________
Shipping Information
Upon receipt of your payment will be sent the plants.
-----
The new shipping costs
BE 11,90 euro
---
NL 13,90 euro
---
Lu 16,90 euro
---
FR 17,90 euro
---
DE 14,10 euro
---
GB 22,50 euro
---
IT 28,50 euro
---
Rest of EU 38,00 Euro